The Jerusalemchurch is a small 15th century church in Bruges, Belgium. It's a remarkable building, based on the groundplan of the Holy Sepulchre in Jerusalem. The church was build by members of the Adornes family, an originally Italian family which had settled and become of note in Bruges. The brothers Jacob and Pieter Adornes had been to Jerusalem on a pilgrimage, which likely inspired the style of the church.
The church is still in private property of the Adornes family and the only privately owned church in Belgium.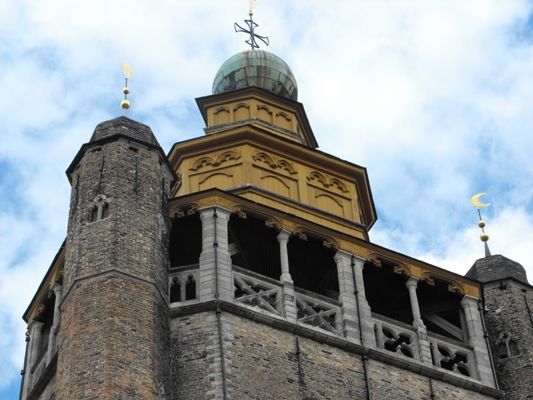 The octoganol tower with four small turrets is topped with a globe (representing the world) and a so-called Jerusalem cross.
Everything in the church is devoted to the Holy Sepulchre, the grave of Jesus. The central altar is decorated with stone masonry depicting Cavalry. In a crypt under the choir, a replica can be found of Jesus lying in his grave.
The raised choir with original late-Medieval stained glass windows.
Monument for Anselmus Adornus and his wife. Anselmus was mayor of Bruges in the mid-15th century.