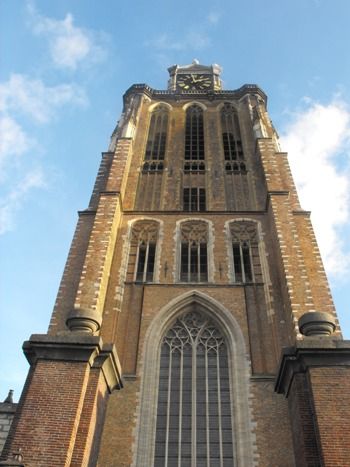 The Grote Kerk of Dordrecht (Dordrecht Minster) is a large medieval basilica with transept, build in Brabantine Gothic style and the northernmost representative of this style, which is found a lot in Flanders (Belgium).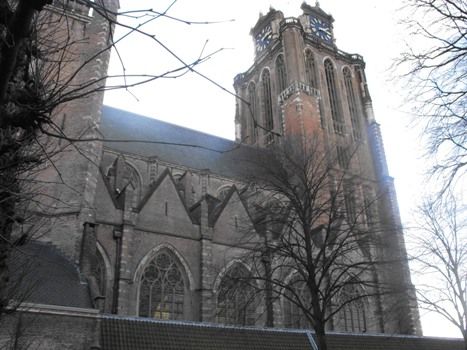 The church has had a predecessor in Roman style, of which the remains have been found in recent excavations. The current building was build from the late 13th century onwards and was finished around 1470. The current tower was build from 1504 onwards, but never reached the height it was designed to have; over 100 m. Due to the boggy underground around Dordrecht, the tower already started standing out of alignment during building, so was never build beyond its 65 m.
Before the Reformation, the church was called Church of Our Lady. Since 1572, the church is used for Protestant services.
The ship of the church with rib vault ceiling. The paintings on the vault were made in 1930 in Art-Deco style. Because of frequent restorations the Medieval vault paintings have been lost in this part of the church.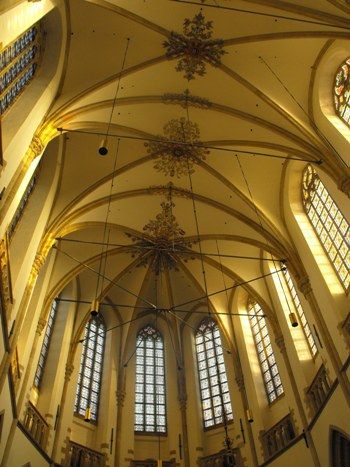 The choir, the paintings on the vault are from around 1500. After the Reformation, vault and wall paintings in previously Roman Catholic churches were frequently painted over. The paintings in the choir here have been rediscovered and restored.
The Choir of Mary with a beautiful fan vaulted ceiling. The carved rosettes on the ceiling depict scenes from Mary's life.
The main organ of the church in the ship. The current organ was build in 1858/59, but put in the casing of the previous, 17th century organ.
A fifteenth century fresco depicting Christ as the Man of Sorrows.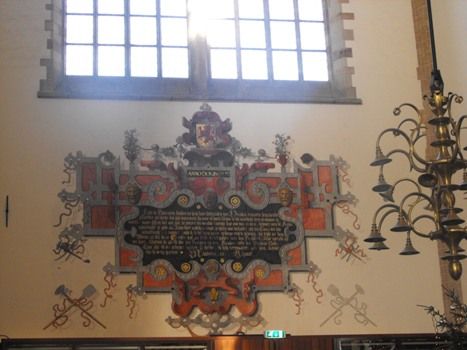 Protestant painting, depicting the Bible verses Matth. 22:16-22, painted in 1579, so only 7 years after the Reformation.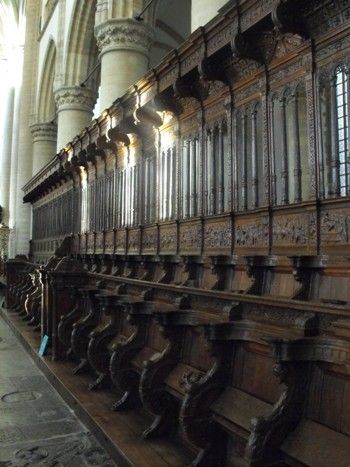 The choir stalls were build around 1540 and spared during the Reformation, this is quite a rarity in The Netherlands. Already in the early 17th century tourists came to admire the choir stalls in this church.
Marble pulpit with an oak roof from 1756.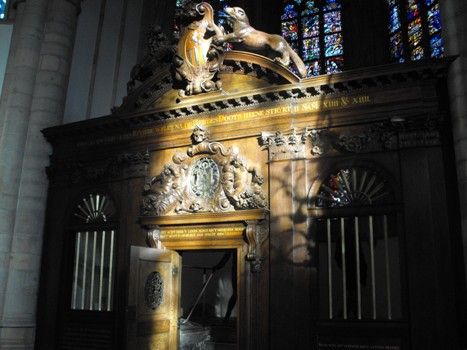 Gate to the chapel of the family Meerdervoort (1679). The carvings depict, on top, the family crest, upheld by a beaver and a lion, and above the door the monogram of the first members of the Meerdervoort family to be buried in this chapel, surrounded by symbols of life and death.