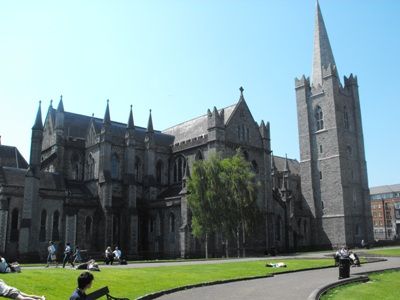 St.Patrick's Cathedral in Dublin is the largest of the city's two cathedral (the other one being Christchurch Cathedral). Unusually, the cathedral is not the seat of a bishop, but the National Cathedral of Ireland, this situation has existed since the 13th century. The dean of the cathedral is the ordinary of the church, the most famous holder of this office was the author Jonathan Swift (of
Gulliver's Travels
)
St.Patrick's Cathedral was build near a holy well where it was said St. Patrick had baptized. The oldest parts of the current church date from the early 13th century. The tower and the West nave were rebuild around 1300, after a fire. Because the cathedral was built very near the old river Poddle, during the whole history their have been problems with seepage of water. This is the reason there is no crypt in this cathedral.
Large repairs and rebuilding works of parts of the cathedral were carried out in the 17th and 19th century. As no building records of the original church were saved, it is unknown how much of the current building is really Medieval and how much is later re-imagining.
The nave and choir of the cathedral
Pulpit and choir stalls, above the stalls are the banners of the chivalric order of the Knights of St.Patrick.
The so-called Door of Reconciliation. In late 15th century Ireland, two noble families, the Butlers and the Fitzgeralds, had a long running feud. It even got so far one of the Butlers had to hide from a Fitzgerald in the Chapter House of St.Patrick's Cathedral. Talking through the door, they decided to end the feud then and there and Fitzgerald had a hole hacked into the door through which Butler could extend its hand to shake Fitzgerald's!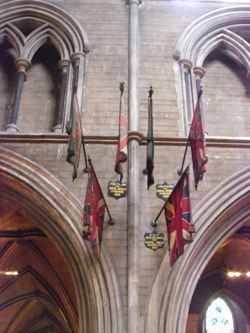 Battalion flags and a Memorial Window commemorate the fallen soldiers of WWI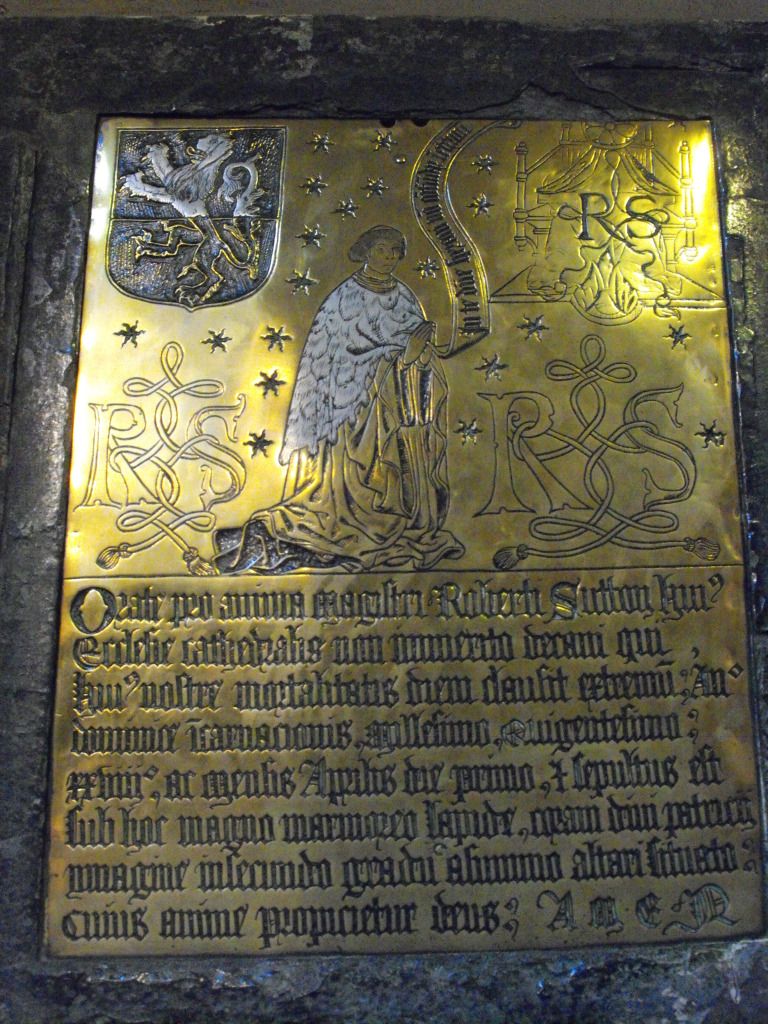 A brass plaque commemorating Dean Sutton dates to the 16th century and is among the oldest in Ireland.
Stained glass windows with Celtic motives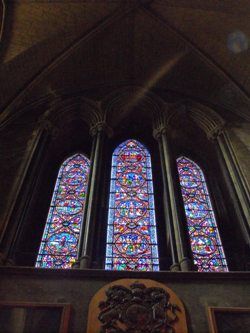 The West Window telling the story of St.Patrick's life in 39 images. It was installed during the 19th century restoration of the cathedral.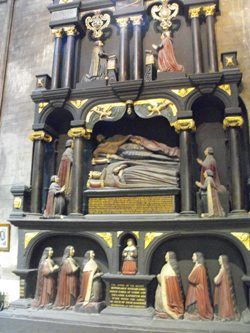 The Boyle Monument, erected by Richard Boyle, Earl of Cork in memory of his second wife in 1632