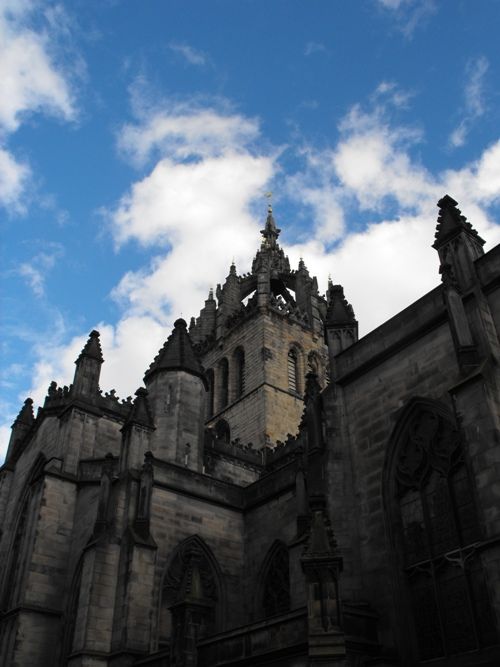 St. Giles Cathedral in Edinburgh can be found on the Royal Mile, the main street of the city between Edinburgh Castle and Holyrood Palace.
The church is actually not a cathedral, it's proper name is High Kirk of Edinburgh, as it's a Presbyterian church. During it's life of over 600 years, it's been a real cathedral (seat of a Bishop) only from 1635-1638 and from 1661-1689. During these periods bishops were installed in the Presbyterian church, backed by the Crown.
During the Middle Ages, Edinburgh did not have a bishop, as it fell under the rule of the bishops of St. Andrews.
The church is named after the patron saint of Edinburgh.
The oldest part of the church, four massive stone pillars, are said to date back to the 12th century, but there is not a lot of evidence to back this statement. The largest part of the current church was build in the mid-14th century. Many side chapels were added to it at later dates, giving the church a rather irregular structure. In 1490, the tower was raised and the distinctive crown steeple added.
In the 19th century, the church underwent two mayor restorations.
The interior of the ship of St. Giles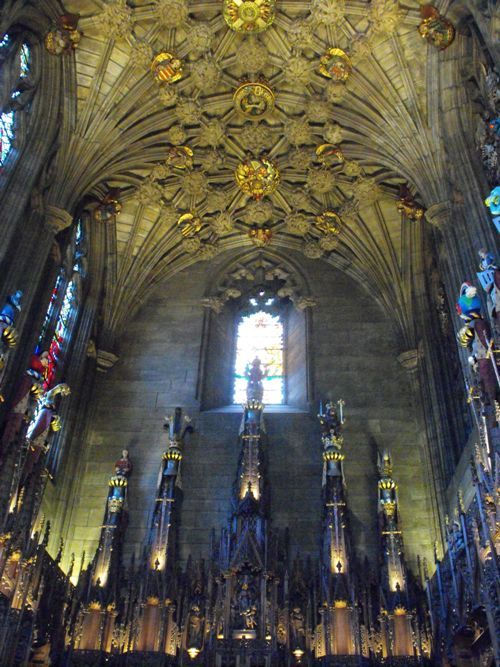 The Thistle Chapel was added to the church in 1911. It is the chapel of the Order of the Thistle, Scotland's foremost order of chivalry. The chapel is very rich in carved stone and beautifully decorated wooden stalls for the knights of the Order.