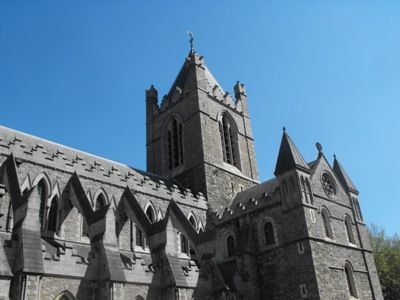 Christ Church Cathedral is the oldest of the two mediaval cathedrals in Dublin. It is both the site of the Church of Ireland (Anglican) archbishop as well as the Roman Catholic archbishop of Dublin. In practical use it is a Church of Ireland cathedral only.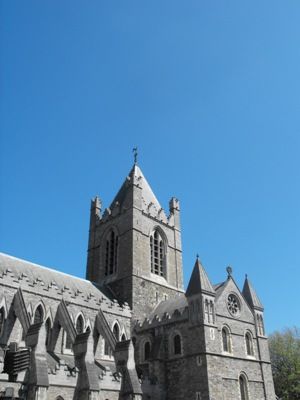 The cathedral was probably founded as early as 1028 by the Viking king of Ireland at that time: Sitric Silkenbeard. The current building however, dates mainly from the 12-13th century. The foundations of the nave, build in the boggy ground of Dublin, slipped in 1562 and the South wall and the arched stone roof came down. The building was partially repaired, but actually remained in a very bad state until the late Victorian time when it was extensively renovated and rebuild. This causes Christ Church cathedral to be an interesting mixture of surviving medieval structures and later Victorian features.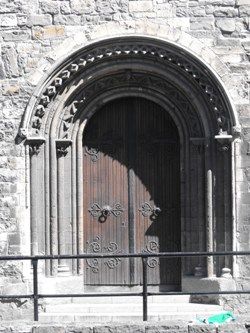 A 12th century arch, a beautiful example of Romanesque stonemasonry.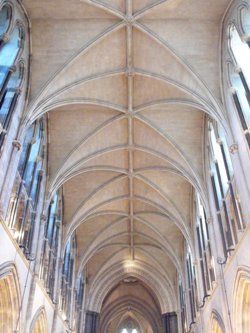 The nave. Left, the remaining medieval North wall, right, the rebuild South wall of the nave. The North wall, also called the 'leaning wall of Dublin', is over 0,5 m out of perpendicular (you can't really see it in this picture, but if you're there, it's really clear!)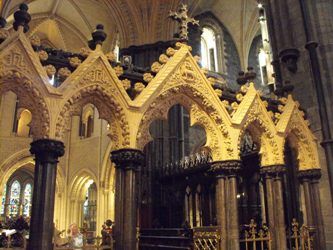 The choir, mainly dating from the Victorian restoration.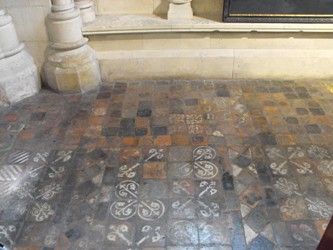 Though the current floor of the cathedral (see top photo) is Victorian, it was copied from the medieval tile pattern, a sample of which can still be seen in the Chapel of St. Laud.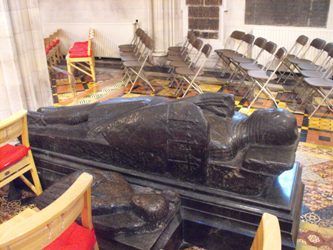 The tomb of Strongbow, leader of the Normans who captured Dublin in 1170. Though the large monument is actually believed to be a 14th century tomb of another knight and the little fragment next to it might be from the actual tomb of Strongbow.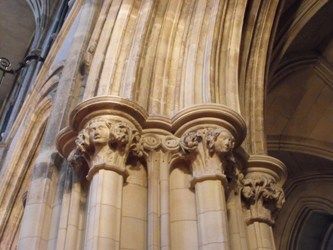 Amid the many Victorian refurbishments, very beautiful examples of Romanesque stone carvings can still be found.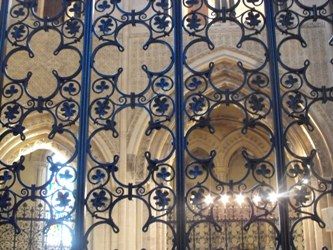 Part of the gate around the choir of Victorian wrought-iron.
The Romanesque South transept, dating from around 1190.
The large West window