The post earlier today of
corinneceleste
about Canterbury Cathedral made me realize I also had pictures of this wonderful church. So here is my addition!
The tower right on the picture is called the Bell Harry Tower. The building of this 90,5 m tower took from 1490 until 1510. The tower is named after Prior Henry of Eastry who organised the building.
The West towers, left in the picture, were build in 1420-1435, but the north west tower was rebuild in the 19th century after it was found to be falling apart.
The nave: this nave, build in the 14th century, replaced the earlier Romanesque nave. The nave was designed by Henry Yevele, the King's Master Mason.
One of the many tombs of bishops in the cathedral, this one commemorates Henry Chichele, bishop of Canterbury from 1414-1443 and founder of All Souls college in Oxford.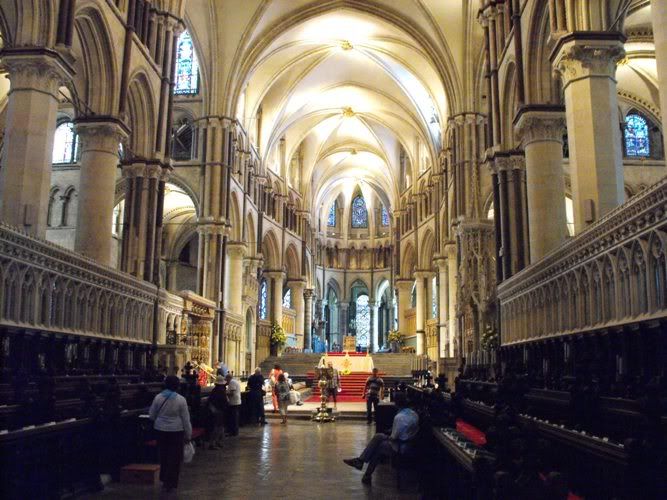 The quire was rebuild after a disastrous fire in 1174. Thomas Becket's shrine was placed in the Trinity Chapel in 1220, until it was destroyed in 1538 during the Reformation.
The magnificent vaulting on the inside of the Bell Harry tower, completed in 1503. Strangely, the centre is a trapdoor, above which is the original treadmill used in raising stones during the construction of the tower.
A modern monument at the place where Thomas Becket was murdered in 1170.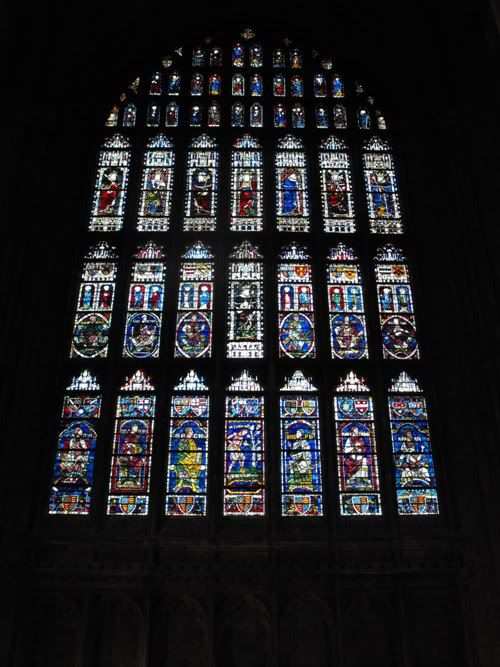 One of the many beautiful stained glass windows in the cathedral. This is the West Window of the church. The windows depict persons from the Bible. The middle panel of the bottom row depicts Adam delving and this is the oldest surviving piece of stained glass in the cathedral, dating from 1176!